INTERACTIVE/REAL-TIME DIGITAL MULTIMEDIA PERFORMANCE WORK
UNLESS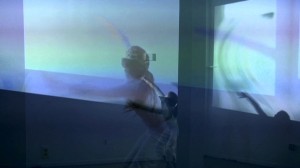 Boston Cyberarts, Grant Recital Hall, May 2009; Machines With Magnets Gallery, Pawtucket, RI, Nov. 2009
The artistic portion and main focus of my dissertation project resulted in the creation of an original digital performance featuring movement artist Emily Beattie and an interactive multimedia environment.  The piece, entitled Unless, took the form of a structured improvisation in three parts, and was presented twice in two different venues.  The interactive multimedia environment was designed to respond to the dancer's movement offering compelling connections between specific aspects of Emily's physical gesture and the sonic and visual elements of the digital performance space.
*The written dissertation document is available here:
Documentation Links:
November 2009 Version
http://www.youtube.com/watch?v=espiHqxuYCg&feature=related
http://www.youtube.com/watch?v=7uLIaVz5VA0&feature=related
May 2009 Version
http://www.youtube.com/watch?v=kFskrAhI7yE&feature=related
http://www.youtube.com/watch?v=5rag1OU3xGw&feature=related
OUT OF TIME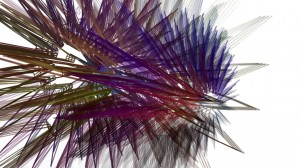 The Extensible Electric Guitar Festival, Clark University, April 2008; Pixilerations Digital Arts Festival, Providence, RI, Oct. 2008
Out of Time (Energy is Form) is an electro-acoustic improvisation structured in time by the consideration of "energy" as a formal device.  Electric guitar and acoustic drums provide the primary sound sources for real-time computer driven processing and analysis-based re-synthesis via custom software created by the composer in Max/MSP.  The composite sound provides control data (after sonic-analysis and mapping) for real-time visual graphics manipulation in another custom software system (created by the composer) utilizing the Jitter OpenGL framework.  R.A Fish (Drums) and Kit Demos (Upright Bass) have collaborated in performance.
"a beguiling audio-visual piece…" – Scott McClennan, Worcester Telegram and Gazette
Press Link – scroll down after clicking on the link
Documentation:
http://www.youtube.com/watch?v=-R_6KTUxPxI
ACCENT STRUCTURES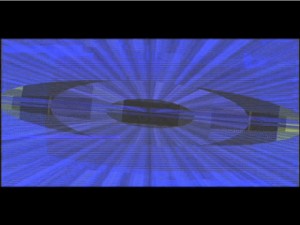 Brown University, Dec. 2006; Boston Cyberarts (Visual Music Marathon), April 2007; ICMC, Aug. 2007 (Copenhagen, DK)
Accent Structures is a real-time sound/image performance exploring compositional structure through the temporal fusion and disassociation of sound and image objects.  The work is generated with a custom audio-visual performance environment developed in Max/MSP/Jitter utilizing shared control processes between the audio and visual modules.  The work has been inspired by cognitive science research into perception, the film sound theory of Michel Chion and the work of select Visual Music artists.
Documentation:
http://www.youtube.com/watch?v=mOg1L58__iU
PHENOMENON OF FORM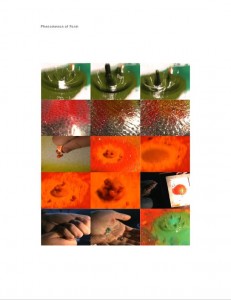 TF Green Black Box, Brown University, December 2005
Interactive multimedia performance in collaboration with Ashley Pigford and Michael Hersrud.